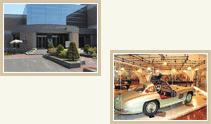 Yuujirou Ishihara was living in Otaru from 3 years old to 9 years old.
On the first floor, the set of a movie "sun in Kurobe" is reproduced, and a car (Nissan and Blue Bird), CM, a record jacket, etc. which were used on the movie "5000 km to a glory" are exhibited and introduced.
On the second floor, owner car Benz 300SL and favorite marine goods are exhibited.
Moreover, the cottage in Hawaii and Yujiro's residence in Seijo are reproduced and introduced.

■ Traffic access
JR Otaruchikkou Station -> on foot 10 minutes
Or the Otaru Station bus terminal -> It is 38 minutes in the Otaru walk bus.